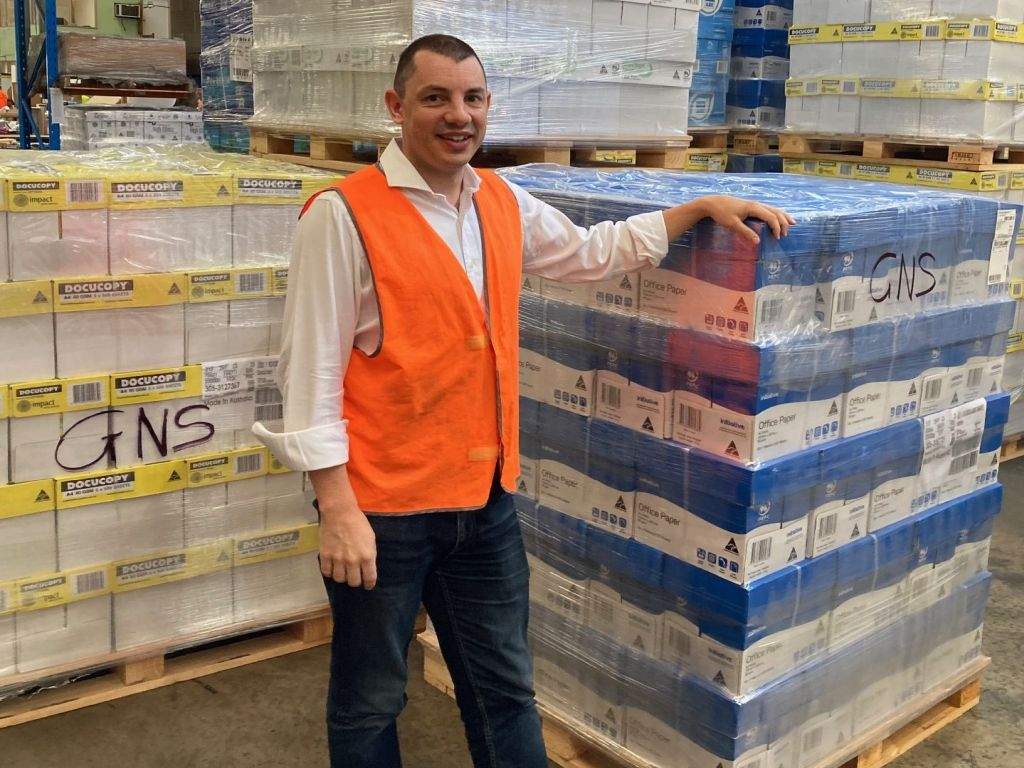 GNS means business with dealer groups
Commercial sales now account for around half of the national distribution company's $70 million turnover.
While COVID-19 has put a dent in commercial sales in recent months, GNS Wholesale is on track to increase its share of the office and business products channel, which it has grown from nothing to more than $33 million over the past 10 years.
The well-documented decline of the newsagency market has seen GNS develop into a two-sided business of roughly equal size: the retail side comprising newsagencies and post offices; and the commercial side, skewed towards the two major dealer groups – Office Choice, for which GNS is the preferred supplier, and Office Brands.
Sales are about equal between the two groups although Office Brands has shown the most growth over the past year, which was reflected in GNS winning the group's 'General Office Products Supplier of the Year award' in 2020.
GNS was also named runner-up in last year's Office Choice "Supplier of the Year' award.
Interestingly, the pandemic has resulted in a spike in sales among the three to four thousand newsagencies serviced by GNS, driven by more consumers shopping locally during lockdowns.
"Sales on the commercial side have been flat since the sanitiser and mask gold rush - or bubble - at the start of the pandemic," Paul Yardley (pictured), CEO of GNS, told Office Products News.
"Dealers generally struggled in metro areas and the CBD but the regional businesses have done OK," he said.
Office Products News understands GNS' first half revenue decreased by 3 per cent. while profit before tax grew to $1.6m (significantly improved versus the prior year's breakeven position), a strong result considering the impact of COVID-19.
Central to GNS's pitch to the dealer channel is the fact that the company (which incidentally is owned by 300 newsagent shareholders) is Australia's largest stationery and office products wholesaler, bigger than all of its competitors combined.
GNS has five warehouses – in Sydney, Melbourne, Brisbane, Adelaide and Perth – the latter two coming on board with respective acquisitions of SATEX in South Australia (in 2018) and WA Stationery in Western Australia (in 2017).
GNS currently employs a national field sales force of 12 and customer service team of eight.
The business has a senior management team of four – Yardley, Nerolee Conaghan (head of sales and customer service), Adam Wedge (head of merchandise) and Peter King (chief operating officer) – who run the business "leanly", with the customer experience foremost.
"We are a low-cost operator with around 16,000 SKUs, all held in every shed," Yardley said.
As for stock availability, Yardley said this was a key focus. "If we have it, we'll deliver it," he said. "Our DIFOT rating (Delivered in Full, On Time) has improved to around 97 per cent."  Yardley added that COVID and port/shipping issues had meant supplier out-of-stocks were worse than usual industry-wide.
GNS supports national brands that "invest in brand equity", according to Yardley but it also has stable of four private label brands that account for less than 10 per cent of its total revenue.
Through Neon Orient, GNS sources and supplies around 40 of 270 Office Brands' Initiative products.
Sovereign, once the major own brand at GNS but now limited to exercise books, has been superseded by the Stat range of around 170 stationery products.
GNS also offers a small number of generic 'white label' products on seasonal and everyday items.
Since joining GNS in 2016, Yardley has held the view that the dealer channel has the same "transition issues" as other markets in terms of succession.
He believes that as the industry transitions down a generation, the new owners will not want to run a warehouse, with its added costs and operational issues. 
"Over the next five or so years a large proportion of dealers in Australia will change ownership – that's an opportunity for us," he said.
Meantime, Yardley is hoping the pandemic will ease off enough this year so that GNS and Office Choice can re-schedule their combined trade show OPIX.
"If not, we'll probably run some smaller state roadshows," he said.