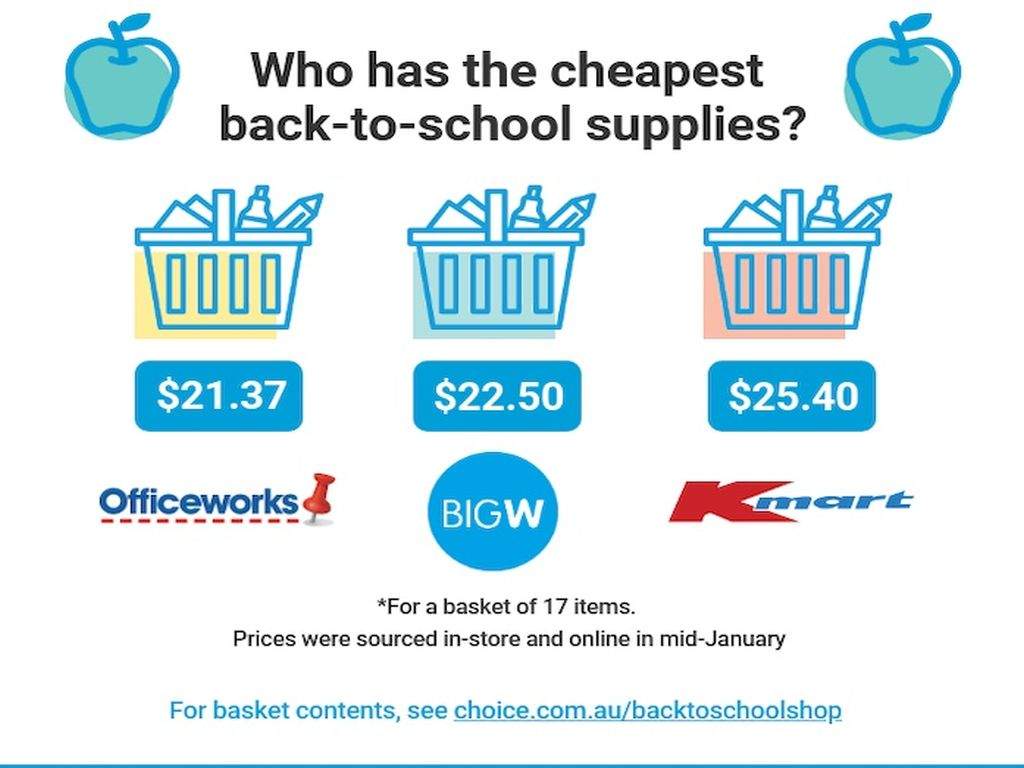 Officeworks wins BTS 'basket challenge'
CHOICE compares total of the tape at three major retailers.
Officeworks has come out on top of CHOICE's annual back-to-school 'Basket Challenge', which compares the cost of student essentials among three leading retailers.
The consumer group compared the cost of 17 standard items, excluding computers and tablets, at Officeworks, Kmart and Big W. 
The total of the tape at Officeworks was $21.37, followed by Big W at $22.50 and Kmart at $25.40.
Marg Rafferty, editor at CHOICE, said: "It's good news for Australian parents this year, with all three of the major back-to-school retailers keeping prices in check.
"With a tough 2020 for many Australian families, it's promising to see these retailers compete to keep prices low. Officeworks won for the second year in a row, but the gap has narrowed with Big W with just over a dollar's difference between the stores," she said.
Items included in the survey were:
5-pack HB pencils
12-pack coloured pencils
2 pencil sharpeners (with receptacle to hold shavings)
10-pack ballpoint pens
10-pack colouring pens
Pencil case 
4-pack highlighter pens
Eraser (large)
2-pack glue sticks
A4 exercise book (64 pages)
Roll of adhesive book covering (2m)
A4 spiral-bound notebook (120 pages)
2-ring binder (25mm)
Water bottle (BPA free, 550mL or closest)
Scissors
Ruler (30cm)
Correction tape