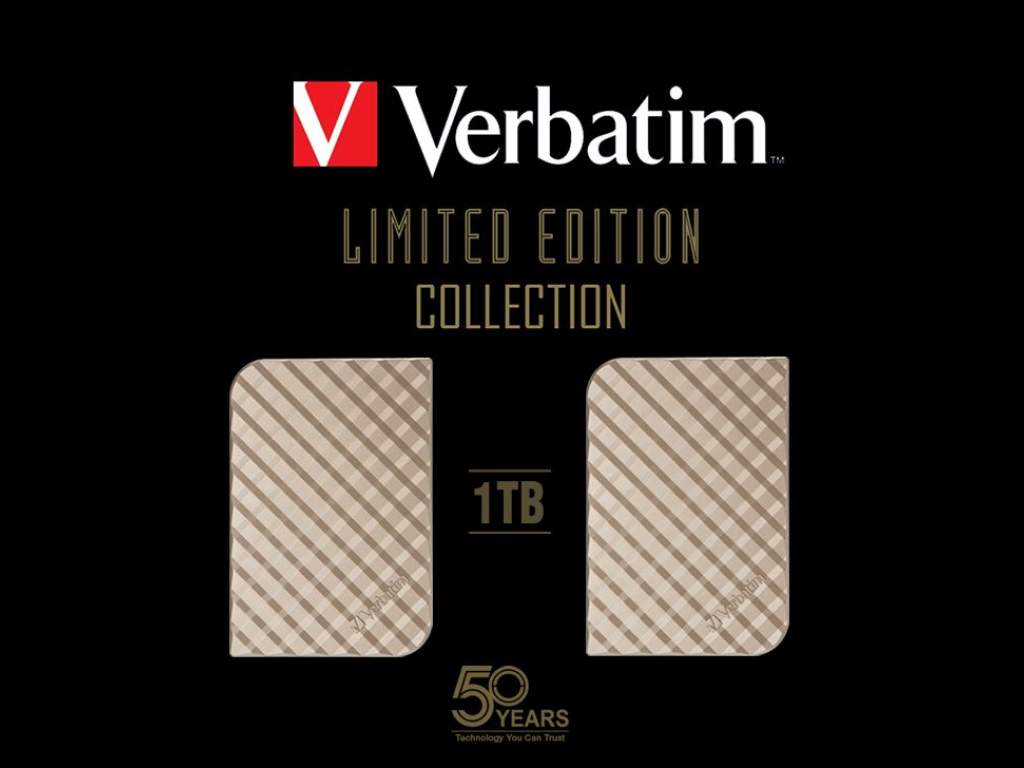 PROMOTED: 50th Anniversary Limited Edition Portable Hard Drive
This year marks Verbatim's 50th Anniversary and we're dropping a breathtaking homage to our heritage of modern, streamlined design, precision and excellence with the release of our striking Limited Edition Collection.
For the past 50 years, Verbatim's mission has been to develop trusted technology that enrich the lives of our customers. From Floppy Disks, Magneto-Optical, CD, DVD, Blu-ray & Archival optical media, to Memory Cards, USB Drives, External Hard Drives (HDD), Solid State Drives (SSD), IT Accessories, Mobile Accessories, LED Lighting and 3D Filament Materials - the depth and breadth of Verbatim's extensive portfolio and influence in the storage industry remains unrivalled.
Sophisticated, Streamlined Design
Reflecting half a century of progress and expertise from those early days, the Limited Edition Collection delivers the capacity, performance, aesthetics and reliability that is a trademark of our product experience.
It features a beautiful, modern-day upgrade of our trademark sleek, streamlined, Portable Grid Hard Drive in Champagne Gold to complement your on-the-go lifestyle.
SuperSpeed USB 3.0 Performance
Debuting our next generation SuperSpeed USB 3.0 Limited Edition Hard Drive with fast data transfer & backup with backwards compatibility with USB 2.0.
Form, Function & Portable Convenience
Designed to fit in the palm of your hand, there's a massive amount of space to store, organise and share your precious music, video, photos and documents at the click of a button.
Peace of Mind - Safeguarding your Data
We build our Hard Drives to exacting requirements for exceptional durability and long-term reliability.
Relax in the knowledge that your files are safe with the added security of Nero BackItUp Software. The Green Button software reduces energy consumption & extends the drive's life expectancy & we also provide a 2-year limited warranty for added peace of mind.
Specifications
Grid Hard Drive USB 3.0 Champagne Gold
1TB Capacity
USB 3.0 SuperSpeed
USB Plug 'n' Play
Nero Backit Up Software