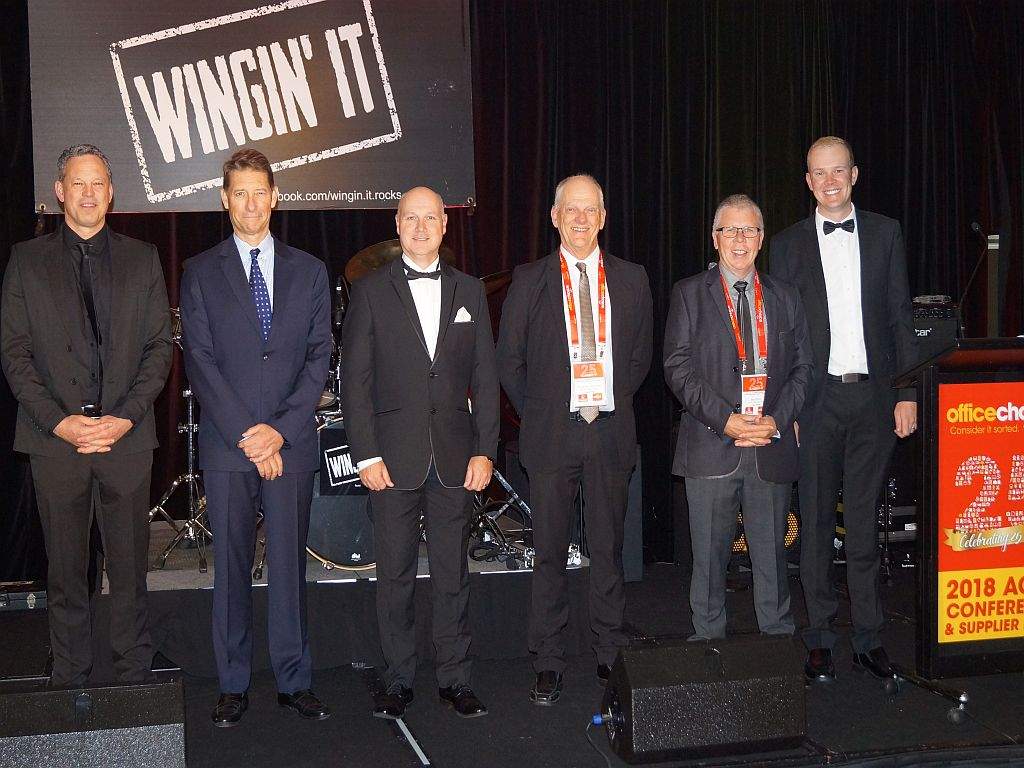 Office Choice celebrates 25th anniversary with 2020 vision
Expanded dealer group outlines ambitious growth target.
 
Office Choice celebrated its 25th anniversary last weekend by confirming its ascension to the mantle of the country's largest office products dealer group – in terms of the number of locations – and announcing its inaugural 'Hall of Fame' inductee.
The group also announced the addition of an indigenous product offering in association with the Kulbardi/Bibbulmun organisation and the launch of a new 'price fighter' range, succinctly titled 'Stat'.
Office Choice CEO O'Brien told members at the group's annual conference at the Crowne Plaza Resort in the Hunter Valley with the addition of the GNS-affiliated Officesmart network, the group's site numbers were 20% higher than they were two years' ago.
O'Brien said the group had increased its market share from 3.9 per cent to 4.4 per cent and had increased like-for-like sales by five per cent.
He said that despite many "challenges", the group had set a target of 15 per cent growth for 2019.
He said that around 30 per cent of group's members were actively driving their business while 50 per were "stable" with 20 per cent having "questionable sustainability", hence the need for members, both branded and unbranded, to "get on board" with the marketing, merchandising and IT programs outlined in group's 2020 strategic plan.
Office Choice was established as buying group in 1993 and in recognition of his contribution to the group, foundation director Colin Ferns (retired owner of Nu-Print Office Choice) was inducted as the group's inaugural 'Hall of Fame' recipient. The award was accepted on Ferns' behalf by son Jason Ferns and current director and foundation member Brad Starr (Rapid Office Choice).
Office Choice will stage next year's annual conference in conjunction with the previously announced Office Choice/GNS joint industry trade show to be held at the Hyatt Regency Hotel in Sydney in August next year.
 
PHOTo CAPTION: The current Office Choice board (from left): Mark Smith (Dorset Business Solutions), Adam Davenport (independent director), Jason Camidge (Dolphin Office Choice), Corrie Van Breeman (Speedy Office Choice/Logan Stationery), Brad Starr (Rapid Office Choice) and chairman Daniel Kelly (Stuart & Dunn). Darren Hayes (Quick Corporate Australia) was unavailable.