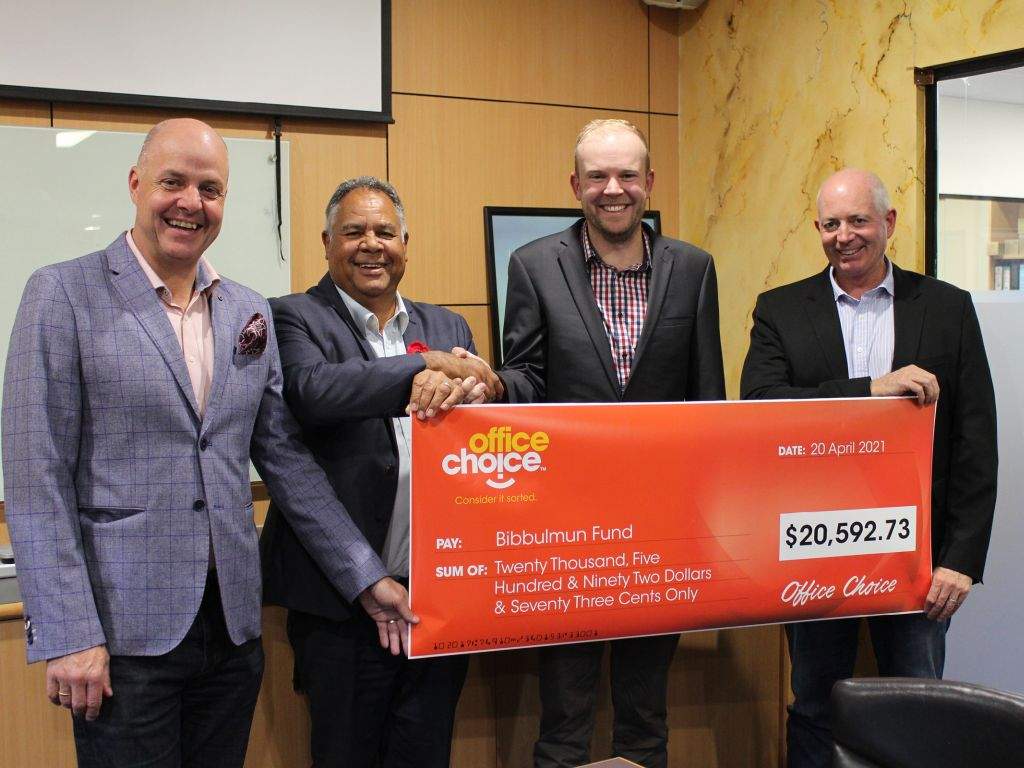 OFFICE CHOICE CONTINUES STRONG SUPPORT OF THE BIBBULMUN FUND
Dealer group members show continued support for Indigenous product range.
Office Choice continues to be a strong supporter of the Bibbulmun Fund and has presented the latest donation on behalf of all Office Choice members to Bibbulmun Fund Chairman Kim Collard.  
The cheque for $20,592.73 is the result of part proceeds from the sale of all Bibbulmun products through all Office Choice group members over the 9-month period from April to December 2020. This latest donation brings the total contribution to over $70,000 since the introduction of the Bibbulmun range. 
Kim Collard, Chairman of the Bibbulmun Fund says "I am delighted to receive this contribution on behalf of the Bibbulmun Fund. The Bibbulmun Fund and Office Choice have developed a strong partnership together and I thank the members and customers of Office Choice for their continued and ongoing support. By supporting the Bibbulmun Fund through their generous donations, Office Choice is driving positive change for Indigenous Australians."
Office Choice CEO Brad O'Brien stated "I am proud to once again hand over a significant cheque on behalf of all Office Choice members and thank our members for their continued ongoing hard work and support. We are proud to be the exclusive dealer of the Bibbulmun range and are committed to supporting Indigenous Australia and building awareness and knowledge of their culture."
The Bibbulmun range features quality products at competitive prices and includes Australian-made carbon neutral copy paper and a wide range of office stationery products. Bibbulmun products offer a simple way for customers to give back to Indigenous Australia, and meet their Corporate Social Responsibility targets. Bibbulmun makes it possible for customers to play their part by contributing part-proceeds to initiatives which go beyond mere handouts, by empowering Indigenous Australians to build a better future for themselves and their community.
Image: Office Choice CEO Brad O'Brien, Bibbulmun Fund Chairman Kim Collard, Office Choice Chairman Daniel Kelly & QCA CEO and Office Choice Director Darren Hayes.