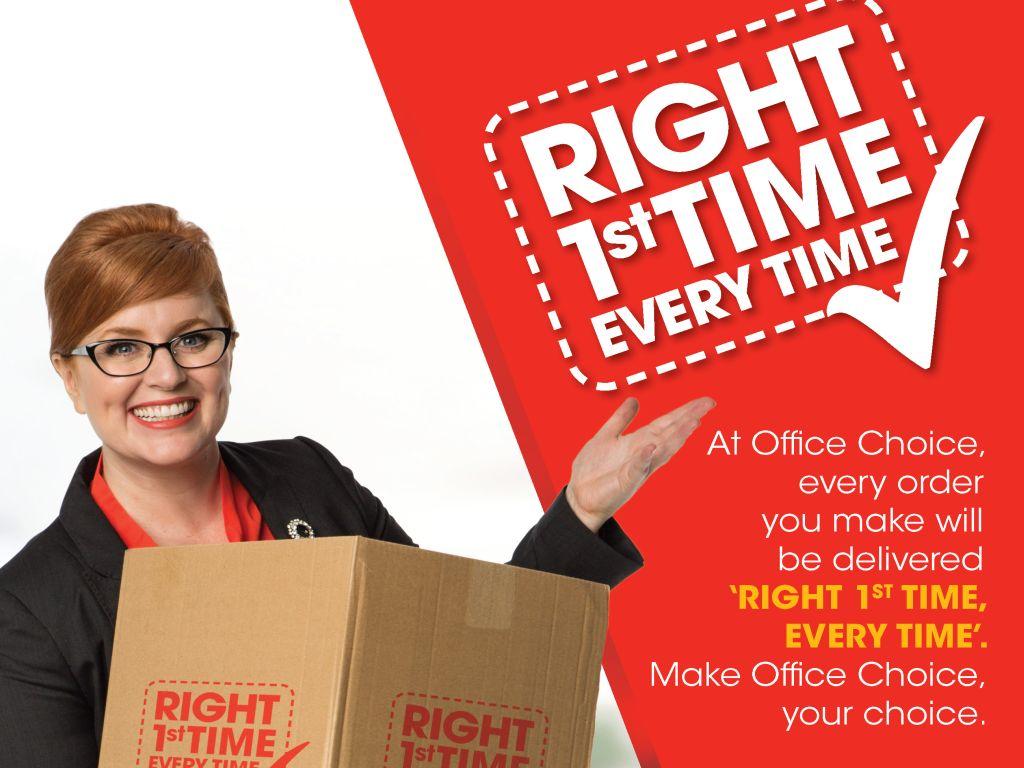 Office Choice getting it 'Right, First Time'
Office Choice this week launched its refreshed Branding Campaign, building on its current strong presence and customer centric philosophy.
'Consider it sorted' and 'Joan the Office Manager' have been instrumental in improving the brand awareness of Office Choice over the past 4 years and this campaign aims to build on that base with a strong prospecting focus.  
Continuing their progressive approach to promoting their brand, Office Choice undertook a market research project to identify customers key pain-points when purchasing from office products suppliers with the objective of providing a seamless and easy solution to switch suppliers.
Launched to the members at the National Conference held last October, the resulting campaign provides a compelling message to the most common pain point which was identified as customer service accuracy; 'Right 1st Time, Every Time' - When you order from Office Choice, it will be delivered 'Right 1st Time, Every Time'"
In addition, they have addressed a secondary pain point which is the switching barriers to changing suppliers. Commonly seen in the same light as changing energy providers, the solution is their unique online process 'One Click Switch' which allow prospective customer to make the switch with a simple form and one click.
These two propositions gives the Office Choice members a compelling prospecting message and one that will resonate with customers.
This campaign will be supported by combination of national and local advertising including Metro and Regional Radio, Digital Marketing and Local Area Marketing. By combining these three mediums during the busy Back to Work period, has ensured this campaign will receive major exposure through our dealer markets across all states. 
Office Choice National Marketing Manager Cameron Osborne says "The Joan the Office Manager brand campaign has had a significant impact within the B2B market, and refreshing this campaign by incorporating the prospecting message of 'Right 1st Time, Every Time' and 'One Click Switch' will continue to offer Office Choice members a distinctive brand proposition and credibility within the market. Combined with our Back to Work campaign, we continue to work closely with our suppliers and partners to ensure we have the strongest Back to Work proposition in the market."