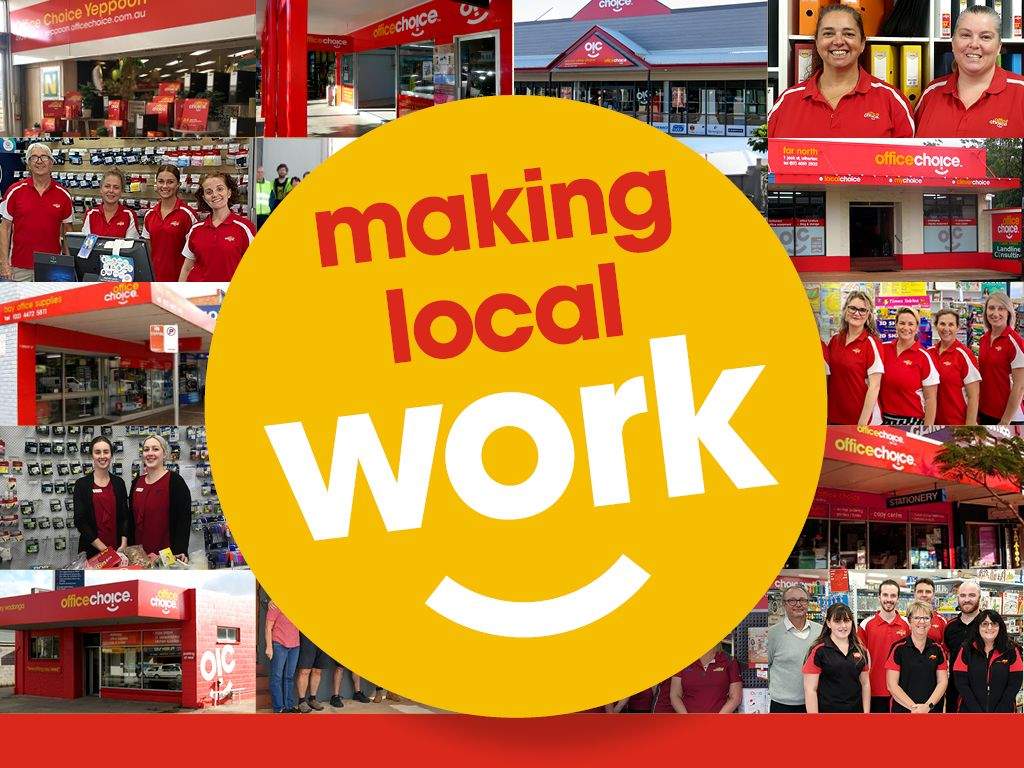 Office Choice launches new brand strategy 'Making Local Work'
National office supplies reseller Office Choice have launched their new brand strategy, 'Making Local Work'.  
Office Choice Limited today announce the acceleration of the release of their 2020 Brand Strategy to further assist Office Choice members and their customers in these challenging times.  This strategy launch follows on from recent measures to support Office Choice members during this time including the 50% reduction on fees, the removal of non-mandatory costs, increased advertising spend and formation of the Covid-19 resource hub.
Office Choice have committed to launching new products and services, and spending more on media to grow our business than ever before.  This new brand strategy reflects not only our own businesses purpose but captures the importance of local business supporting local businesses during this time, which is what Office Choice has always championed and will continue to do as the country gets back to work.  
Brad O'Brien, CEO of Office Choice said, "With Australian businesses facing the most challenging period they have ever faced, we wanted to get on the front foot and actively support not only our members stores but importantly our local business customers and communities they support."
Brad continues "We know just how challenging it can be when you're a local business, because we're a local business too.  The difference being that we are a local, but with the all the advantages that come with being part of one of the country's largest office products resellers.  We are totally committed to supporting local businesses all over Australia get back to business and making local work".
Office Choice has continued to grow over the past 6 years on the basis that it has always delivered a best in market offering to Dealers and Customers alike. To ensure a continuation of the trend Office Choice are launching new initiatives to further support its competitive position and help local business grow with a Price Promise, Choice Buys and its service offering of Right 1st Time Every Time.
Cameron Osborne, National Marketing Manager at Office Choice said, "The campaign is a long-term brand strategy that launches on Monday 4th May and includes a fully integrated digital media campaign and local member plan for members to access and customise the main elements of the strategy. This is a National strategy with a local presence and every Office Choice branded member will have their own local connection with the strategy. It's our objective to shake up the category with a very different creative and media approach than you've seen before.  This will include a series of online videos depicting real scenarios in which Office Choice has actively supported local business in their growth.  This new strategy will be supported online with an ongoing content program and an updated web site."
The launch of the digital brand assets is the first step in what is a long term, holistic strategy.  This will include the progressive release of more customer centric programs over the coming months to drive engagement and turn customers into members, providing further opportunity for all stakeholders to grow.