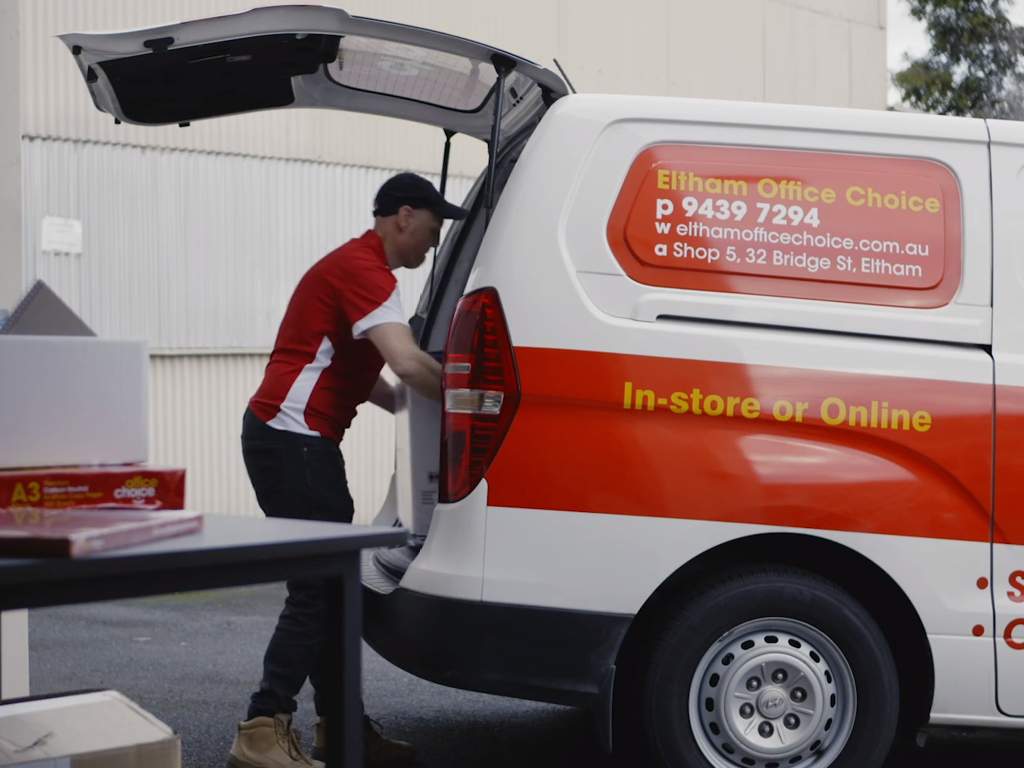 OFFICE CHOICE LAUNCHES NEW NATIONAL AD CAMPAIGN TO SUPPORT BRAND STRATEGY
TVC and online campaign promotes new customer acquisition program and brand strategy.
Leading Australian Office Supplies reseller Office Choice has launched a new Customer Acquisition Program with a TVC and digital ad campaign to support the next stage of their Brand Strategy. 
The new Office Choice TVC began streaming on digital channels last week thrusting the new Office Choice Brand Strategy "Making Local Work" onto the main stage. The advert is currently being seen across TV channels plus Facebook, Instagram, Google & the YouTube Network. Over a million locally targeted views have been scheduled across the country through the month of June.
The TVC is the first of a series of adverts showing how Office Choice is "Making Local Work" for their customers. This advert stars Office Choice Member, David Jordan from Eltham Office Choice and follows David as he offers his customer assistance in getting their business back in motion after closure. The common narrative of business' re-opening and the local Office Choice being there to help is a cornerstone of the new Brand Strategy and this TVC is the driver in the digital strategy.
Cameron Osborne, National Marketing Manager at Office Choice said, "We are really pleased to be able to tell the Office Choice story and portray our brand values in such an effective medium and through one of our very own members. We are sure our local focus will resonate well with our current and future customers."
The Customer Acquisition Program, which is being promoted in conjunction with the End of Financial Year Campaign promotes Office Choice to prospective audiences through a targeted digital campaign spanning Streaming Media Advertising as well as Google Keywords, Facebook & Google Advertising. 
The advertising channels capture prospects with traffic directed to the recently released Office Choice eCommerce website featuring an improved and simplified ordering process. All orders received are fulfilled by local members while driving the "Making Local Work" brand message to secure them as repeat Office Choice customers.  This process is having immediate impact delivering increased revenue and growing each member customer base. 
Early results from the program have surpassed expectation with an increase in website traffic and a high number of ecommerce transactions recorded in the first few weeks of operation, all delivered directly to local members.  The launch of these initiatives delivers on the commitment made to Office Choice members to continue our support during these times through an increased investment in media spend and growth programs. 
Brad O'Brien, CEO of Office Choice said, "We are excited to see the benefits of the customer acquisition program and ecommerce website start to roll in for our members both individually and as a collective group. These two initiatives are an integral part of our new Brand Strategy and we are looking forward to seeing it continue to grow for the benefit of all Office Choice members."