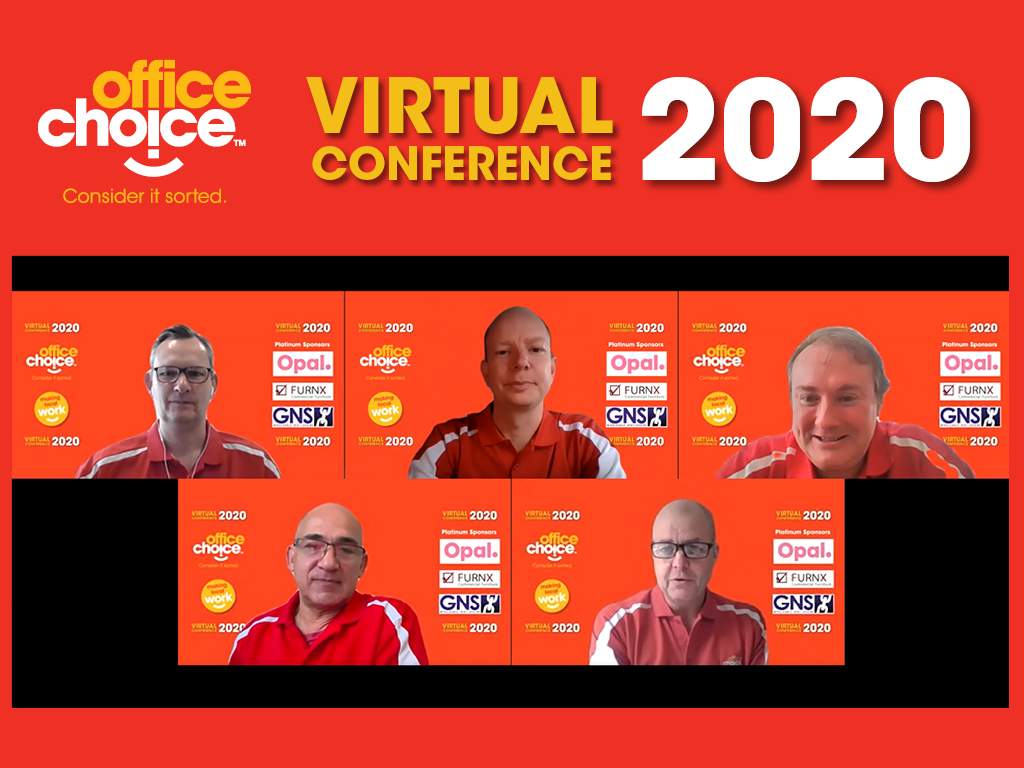 OFFICE CHOICE MEMBERS JOIN TOGETHER FOR VIRTUAL CONFERENCE 2020
National dealer group to follow up with virtual AGM and gala awards night.
Over 100 members, platinum sponsors and a world-renowned speaker joined together last week as the Office Choice Group facilitated their Virtual Conference 2020.
Despite looking a little different this year, the online environment was embraced by all with excellent feedback received on the quality of the event. It was a great achievement to have more than 100 members together to hear the Office Choice leadership team detail the current initiatives across the group, to talk about future growth, navigating the post Covid environment and ensuring alignment on future strategy.
The conference included a presentation from world-renowned and TedX keynote speaker Chris Helder, who gave an inspirational speech on Useful Belief. He is an expert and leading authority on improving mental health, mindset shift and human connections in organisations. It was an enlightening presentation and very topical in the current global climate.
"The virtual conference was a great opportunity for the group to get together as a whole to talk about future plans and it is great to see us all aligned and focused on our strategy moving forward." said CEO Brad O'Brien.  "It was terrific to hear engaging presentations from Platinum Sponsors, FurnX, Opal and GNS Wholesale, without whose ongoing support and partnership, such an event would not be possible."
The next virtual events on the Office Choice calendar are the AGM in October followed by the much anticipated Office Choice Gala Awards. Due to continuing restrictions, this event is now being held on Thursday 19th November for a night of fun, entertainment and a few surprises. We are excited to join our members and suppliers together to recognise our achievements during the past year with the presentation of the Office Choice Supplier and Dealer Awards. Office Choice Marketing Manager Cameron Osborne says "We may be apart, but we can still get together to celebrate the strength of the group and the achievements over the past year. This year's gala awards night is not going to be one to miss"