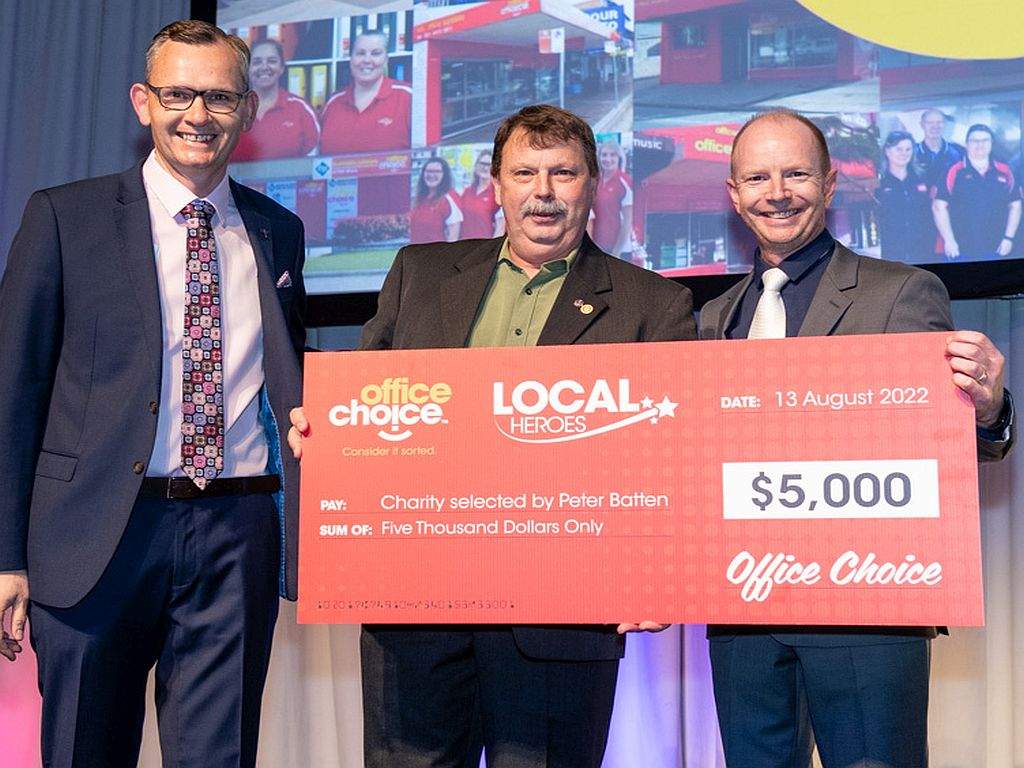 OFFICE CHOICE RECOGNISES PETER BATTEN AS THE FIRST "LOCAL HERO"
Dealer group announces inaugural winner of Local Heroes award.
Office Choice are proud to announce Peter Batten from Global Office & Warehouse Solutions in Victoria as the inaugural winner of The Office Choice Local Heroes Awards that recognises members for their outstanding contribution to their local communities.
Peter was presented his award at the OPIx 2022 Gala Dinner and Awards Night held on Saturday evening where he was also presented with a cheque for $5,000 to be presented to his local charity of choice. In accepting his award, Peter gave an inspirational speech to the audience and spoke of his gratitude in receiving this award and how this donations can go towards the many charities he works with including creating welfare boxes for children and victims of domestic violence.   
Peter spends approximately 30% of his working week volunteering his time to local Community organisations as a community member and as an advisor/mentor. For close to 40 years Peter has been involved in the Community in some way including Rotary as President where he supported programs both locally and internationally. He is a Mentor in both the Victorian Police and Ambulance Victoria's Senior Leadership Group. Peter has recently taken on the role of President of Chelsea's Mens Shed growing the group from just 4 to 50 members all while introducing a Ladies Shed Program.  Peter's motto is simple: "To give money is easy, to give time is a commitment and if you can you should always give back to those that are in need."  
The Office Choice Local Heroes Awards were created to recognise Office Choice members and employees for their outstanding contributions to their local communities. The formation of the awards is a key pillar in the continuing "Making Local Work" brand strategy that puts the local community at the heart of each local members business.  Office Choice remains in business to support local business and the local community.   As the awards grow over the coming years, it is anticipated that it will become a highlight of the annual OPIx Gala Dinner & Awards Night. 
Pic: Jamie Keyzer Office Choice COO, Peter Batten Global Office & Warehouse Solutions & Cameron Osborne Office Choice Marketing Manager.