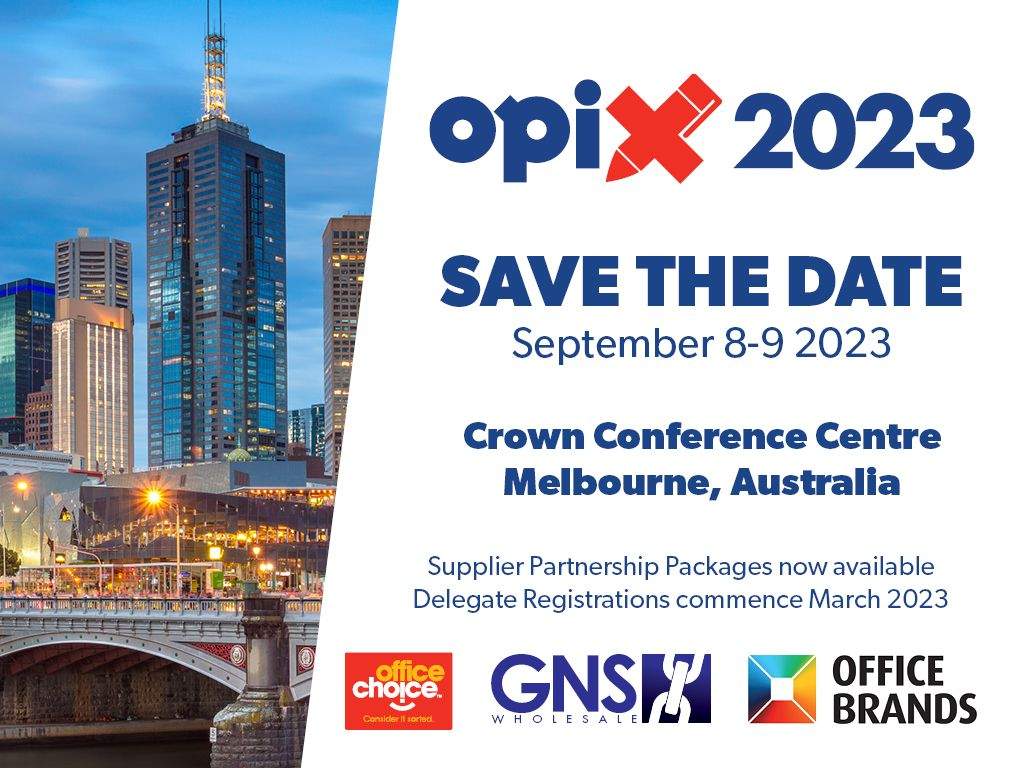 SAVE THE DATE FOR THE INDUSTRY EVENT OF THE YEAR
8-9 September at Crown Melbourne.
Office Choice, Office Brands and GNS Wholesale invite you to join us at 'OPIx 2023', bringing the current independent office products industry together under one roof for the first time. OPIx 2023 will be held at Crown Melbourne from September 8-9 2023. 
The event commences on Friday September 8th with Office Choice and Office Brands holding their Annual Conferences delivering valuable content and insights to the members followed by the traditional Welcome Cocktail Party on Friday evening.
The OPIx Supplier Expo to be held on Saturday September 9th provides the office products supplier community with access to independent office products dealers from Office Choice and Office Brands as well as GNS Customers to showcase their range, new products and exclusive special offers. We are excited to continue our partnership with the Newspower and newsXpress groups to bring even more delegates to the event. 
The event concludes with the Gala Dinner and Awards on Saturday Night.
There is no other industry supplier showcase of this scale where suppliers can reach so many potential customers at the one event.
Office Choice, Office Brands and GNS Wholesale are committed to working with all our sponsors to ensure maximum value and return on investment for the supplier community. We look forward to your support as we continue to build a strong future for the independent office products industry of Australia.
Delegate registrations open in March 2023.  Supplier Sponsorship Packages are now available. Contact Office Choice, Office brands or GNS Wholesale for further information.  
We look forward to welcoming to wonderful Melbourne and a very successful OPIx 2023.